Air Mail, Zeppelin and Space, Catalogs & Books
Zeppelin Mail the Ludwig Kofler Grand Prix collection, Corinphilia auction 1276, May 19-20, 2001. 455 pages, in color, cloth with dj, $105.00 Zeppelin Post Katalog, Siger-Verlac1995, 419 pages, card, $15.00, sold

Commercial Zeppelin Flights to South America by John Duggan and Jim Graue, 1995, 233 pages, card, outer edges of pages have some spots, $27.50, sold

Zeppelin and the United States of America by Hans G. Knausel, 1976, 189 pages, card, non-philatelic, $16.50

Pan American's Pacific Pioneers, by Jon E. Krupnick
1999, 315 pages, color, cloth
2000, The Rest of the Story, 696 pags, cloth with dj
Not philatelic but extremely useful, Both Volumes $85.00
Air Mail an illustrated history 1793-1981 by D. B. Holmes 1981, 226 pages, cloth with dj, $30.00
Zeppelin and the United States of AMerica by Hans G.Knausel, in English, non-philatelic but good documentation, 1976, 189 pages, card, only one coppy, $18.50
Airlines of the United States since 1914 by R.E.G. Davies, 1972, 745 pages, cloth with dj, non philatelic, $27.50
Airmails 1870-1970 by James Mackay, 1971, 215 pages, cloth with dj, $17.50
Sanabria, Cosmonaut Autographs Identification GuideIllustrates the autographs and lists the missions and crews, 1994, 74 pages, spiral metal binding, $17.50
Weebau, World Space Catalogue The complete world catalogue of Space on Stamps, over 13,000 illustrations, Scott, Yvert & Teller and Michel numbers, English, French & German 1990, 2nd edition, 1,168 pages, card, mostly in French $35.00
The Hawker Stamp of Newfoundland by Goodkind, outprint from CCP, 23 pages, card, $12.50
United States, The 24¢ Air Mail Inverted Center of 1918 by H. M. Goodkind 1956, 32 pages, card, outprint from CCP, $17.50
The Saga of the Air Mail by Carroll V. Glines, 1968, 180 pages, cloth, with dj, not philatelic but of interest, $12.50
Standard Airpost Catalogue 1933, cloth $32.50
Kessler's Catalogue of Aerograms, 1961-on, Vol 1-3, original binders, in English, $105.00
Catalogue Mondial des Entiers Aeropostaux by Godinas 1967, in two, two ring binders, in French, $37.50, sold
The editions of the American Air Mail Catalog are a bit complex, a proper identification of the editions and printings would be most appreciated and listed for everyone to use if some reader would obliged.
AAMC, 1st ed, 1940 with 1941 supplement, $12.00, sold
AAMC, 2nd ed, AMC, 2nd ed,

1947, vol 1, $10.00, sold
1950, vol 2, $10.00, sold
1951, Air Letter Sheets including Military and POW Air Letter Cards, 115 pages, card, $22.50
1959, vol 3, $12.50, sold

AAMC, 3th ed, we suspect the above 1959 was considered the 3rd edition
AAMC, 4th ed, 1966 - 1971, all 4 volumes vf with dj, $90.00
AAMC, 5th ed, 1974-1990, all 5 volumes and bound pricing supplement,
AAMC, 6th ed
Vol 1, US Pioneer Flights 1910-1916, US Government Flight, US Air Express, Crash Covers, Airport Dedication, Mexico First Flights, 1998, 552 pages, cloth, $37.50
Vol 2, First Flights of US Airlines since deregulation, Glider Mial, First Jet Flights, 2003, 588 pages, cloth $37.50
Vol 3, Foreign Contract Air Mail Routes (FAMS), Alaska Canal Zone, etc., 2005, 486 pages, cloth, $37.50
The Airmails of Canad BNA and Newfoundland from the American Air Mail Society Covers: Pioneer Flights, SCADTA, Semi-Officials, Airship, Government and other covers 1926-1997, Crash Covers, Balloon, Helicopter, Forces, etc. We consider this a part of the 6th edition though it is not so designated, 1997, 552 pages, cloth, $37.50
Sanabria's Air Post Catalog
1936 edition, 433 pages, cloth $10.00
1938 edition, 557 pages, cloth $10.00, sold
1939 edition, 659 pages, cloth $15.00, sold
1954-55 edition, 540 pages, cloth $15.00, sold
1959-60 edition, 627 pages, cloth $22.50, sold
1966 edition, the last complete catalog, 1350 pages, cloth, sold
Flying the Mail by Donald Dale Jackson, An extremely attractive non-philatelic book, circa 2000, 176 pages, cloth.$25.00
---
Important Single Copies
The Royal Philatelic Collection by Sir John Wilson Bt, 440 pages, 12 color plates and 60 b&w plates, exceptional color plates, fine paper, superb color and black and white illustrations
1952, bound in full Niger Morocco Leather, binding has Royal Arms in gold, one available, $875.00
1952, bound in red buckram with slip case, one available, $675.00, sold
1952, some individual country sections exist from remainders
The Plating of the 10¢ 1847 by Elliott Perry Published in the Collators Club Philatelist between April 1924 and July 1926 in 9 issues (vol III 2-3, vol IV 1-4, vol V 1-3), never reprinted
We can supply quality xerox copies of the 10¢ 1847 plates for $100.00, full size or enlarged
The Collectors Club Philatelist, a fine run, starting in 1924, it lacks two issues of the above plating study, please enquire and we will describe and work up a price.
The Pioneer Miner and the Pack Mule Express by Ernest A. Wiltsee Original edition autographed from Wiltsee to Schoenfeld 1931, 112 pages, large fold out map, cloth $125.00
Record and Postal Account Book, Class 4 Printed ledgers providing a form for small offices. Each page provided space with printed instructions for the monthly or quarterly information. Corning, Pennsylvania, used by E. Trump, Postmaster, Quarterly Many original documents and a cover tipped in. Oct 1892 through September 1895, $125.00
A Catalogue for Advanced Collectors by Henry Collin and Hanry L. Calman
Scott Stamp and Coin Company, 1901
Text with catalog pictures printed
Old Leather, with title Page Volume I, Copyright pages, pages 5 Afghanistand to 1349 Zulaland, bound in one volume, cloth with leather spine and corners, page ends marbeled, should be re-bound, $450.00, enquire
Cloth Binding, Complete Text, pages 1-1,349, bound in two cloth volumes, probably normal binding
Vol 1, pages 5, Afghanistand to 690 Roumania
Vol 2, pages 691, Russia to 1349, Zuland, including US & CSA pages 1061-1266
Paper in excellent condition for the age, binding usable, $450.00, enquire
Beautiful old half leather binding, black, hubbed, two volumes, a deluxe binding Pages 395 - 1,349, Parts 7 - 14,
Vol 1, not present
Vol 2, parts 7 - 10, pages, 395, Jamaica to 828 Rossia
Vol 3, parts 11 - 14, pages, 829, St Christopher to 1349, Zuland
Probably publisher's binding $375.00 enquire
Individual Parts, loose, no binding
Parts 13, pages 1061-1266, US & CSA, paper wraps as issued, $175.00, sold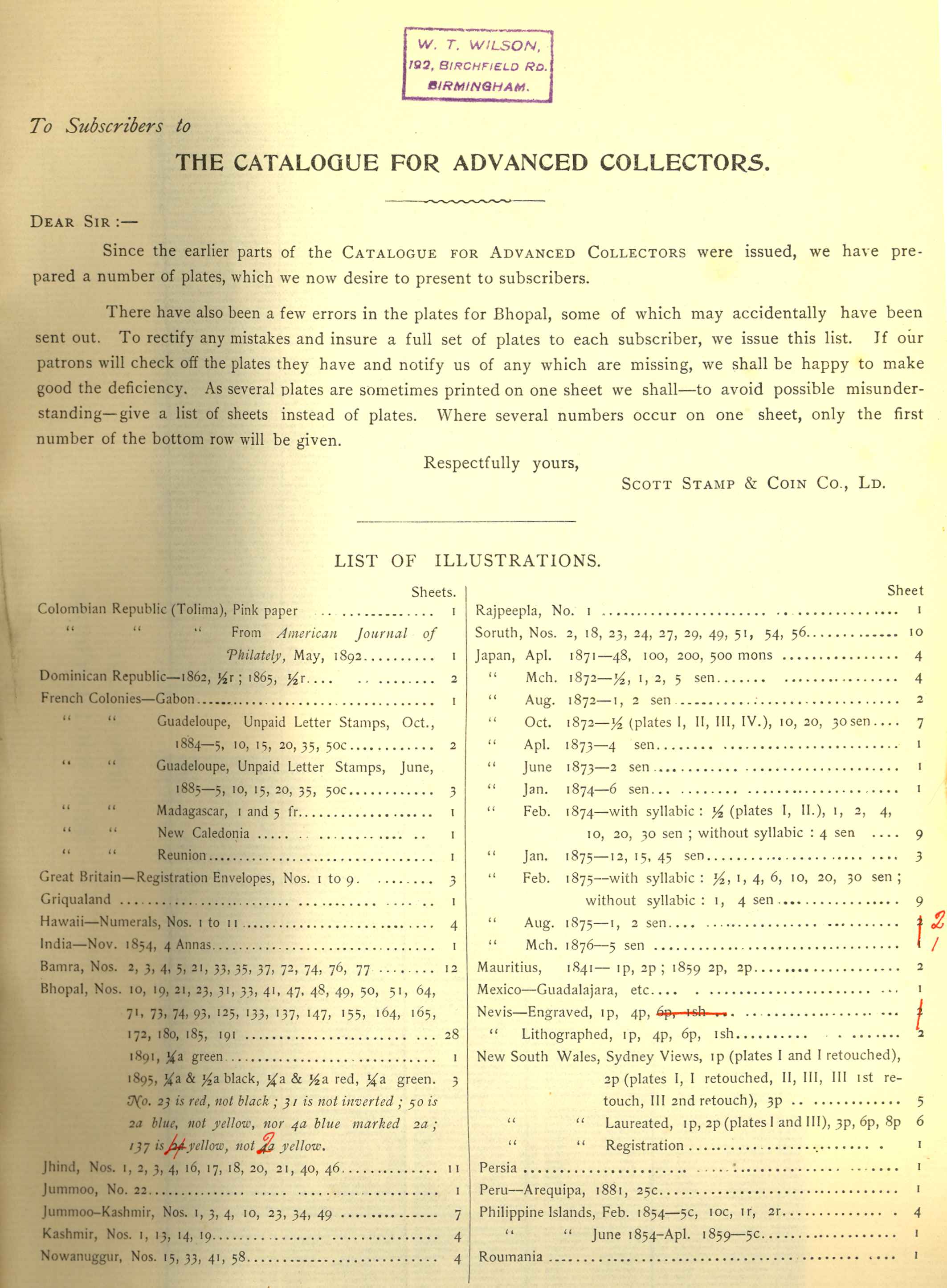 Plates
Vol III - Plates. on spine as leather label, also Catalog For Advanced Collectors, no title page, blue cloth,
first page Afghanistan, last page Roumania, all pages thin and glossy. one exception one Columbia, Tolima on thin pink paper,
all printing in black, 8.5x11 inches
First Book Front Cover, "Collin & Calman's Catalog of Postage Stamps Plates", red cloth
Letter bound in "To Subscribers to The Catalogue For Advanced collectors................. Scott Stamp & Coin Co., Ld"
No title page,
List of Illustrations, Columbian to Roumania giving the number of sheets
Plates, mostly colored but some black & white, glaved paper, the US are not present or listed on letter
Second Book, Front cover, "Collin & Calman's Catalog of Postage Stamps Plates", red cloth
Title Page Vol II, Plates, first Roumania, last US Postmaster Provisionals, mix of black & white, color, surfaced paper, not
surfaced
Major Americana
U. S. CongressOriginal CR papers, Executive Documents of the House and Senate from the 1840's into the 1870's, mostly: War, Navy, Treasury but a smattering of others including Indian Affairs, Executive, etc., however no or few Postal related items, fascinating history and all original.
A 30 inch high stack of paper that needs to be separated by subject and preserved as single documents or rebound. A treasure trove for the history lover, phone for more details, $450.00, sold
Rare Book & Autograph Catalogs
The Thomas Winthrop Streeter Collection of Americana
Parke-Bernet Galleries, Inc. New York
Complete Vol 1, 1966 through Vol 7, 1969 plus Vol 8 being the Index, cloth bound,
new condition, $775.00 ol 7, 1969 plus Vol 8 being the Index, cloth bound,
new condition, $775.00
Charles Hamilton Auction Galleries
Waldorf Astoria, New York
Number 14, Sept 22, 1966 through No 47, Feb 3, 1971 (less no. 20) and No. 63, December 7, 1972 through No. 87, May 8, 1975, most with pr,
new condition, $325.00
---