BOOKS on PHILATELY
Philatelic Bibliopole
Leonard H. Hartmann
COLOR & COLOUR
---
R. H. White
Encyclopedia of the Colors of United States Postage Stamps by R. H. White Covers the 1847 - 1918 issues, The standard work on the colors, papers and gum of US stamps.
1981, Vol 1-4, 4 Parts in 2 binders within one or two slip cases, enquire before ordering, $550.00

Vol 1-2, 1847-1868 and 1869-1893
Vol 3-4, 1894-1907 and 1908-1918

1986, Vol 1-6 less Vol 5, in 4 binders with two or three slip cases, enquire before ordering, $1,100.00

Vol 5, Postage Due Issues 1879-1916, does not come with a slip case, not available
Vol 6, Paper and Gums of 1847-1909, comes with a slip case, pages 1-118, enquire before ordering, $550.00

1986, Supplement to the above, no binder, not commonly available

Preservation of United States Stamps, 1847-1893, 59 pages
Preservation of United States Stamps, 1894-1918, 52 pages
Glass Slide containing paper samples, rarely available
Color in Philately by R. H. White Philatelic articles on color of various stamps are of interest. The binding is poor and we expect pages to fall out with normal use. This book is not to be confused with a color guide for stamps but a discussion of color with some illustrations in color. 1979, 175 pages with 16 bound in plates; pocket contains one errata slip, 12 cards having color charts and a booklet, complete as issued, $60.00 sold out, incomplete copies lacking 12 card plates, $25.00 please enquire
Munsell Book of Color
The fabled 1976 edition with removable chips, Glossy Finish Collection, two Large Custom volumes with thousands of removable chips, this is for a research laboratory and not just an advanced collector, one 1976 set was recently offered on the web at $1,400.00 (current edition is $1,000.00 chips are printed on pages), $850.00, sold

Methuen Handbook of Colour by A. Kornerup & J.H. Wanscher, Introduction and revised by Don Pavey, English Edition, Third Edition 1981, 252 pages, 1,440 color samples, cloth with dj, only one copy available, new condition, $310.00

Pictorial Treasury of U.S. Stamps A well done general book on U.S. adhesive postage stamps, quite attractive, popular as a gift for a new collector; not as detailed as a Scott Catalog but much easier to use and more attractive, a friend found a remainder and shared it with us. The color illustrations are quite good, catalog prices are given for 1925, 35, 45, 55, 65 and 75. 1974, 223 pages, cloth, in color $20.00
Richard M. Morris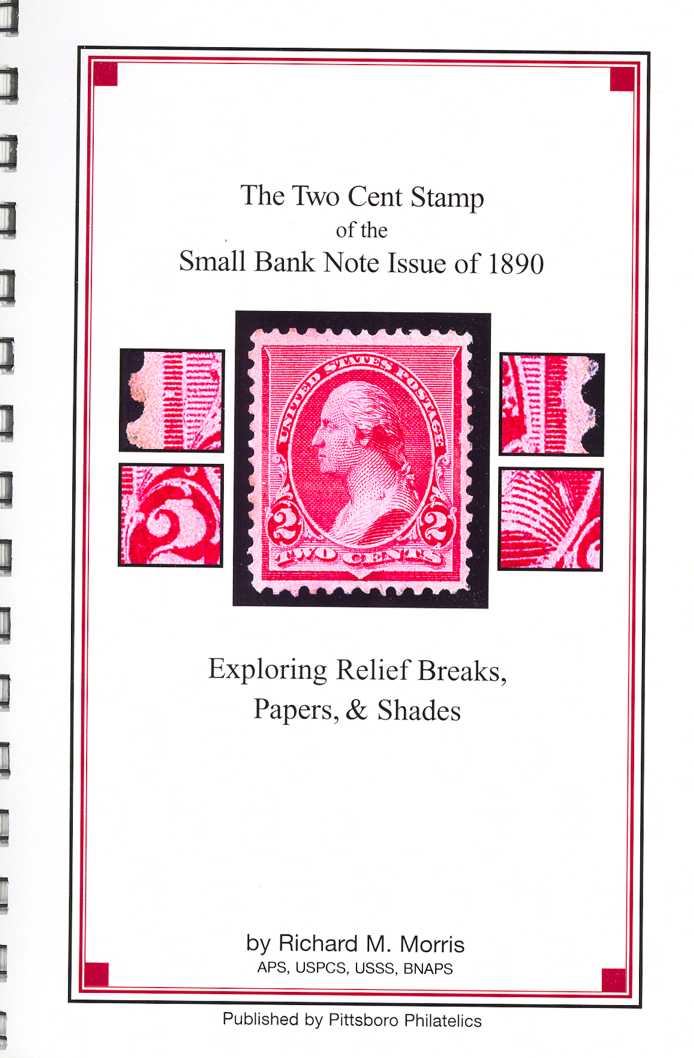 Pittsboro Guides
Useful color guides with tipped in color chips, the best available.
The Two Cent Stamp of the Small Bank Note Issue of 1890 by Richard M. Morris Exploring Relief Breaks, Papers and Shades, a useful booklet, 2003, 40 pages with two pages of color chips and a black out mask, spiral bound, autographed, $25.00
Specialized Color Guides for US Stamps by Richard M. Morris Covers the 3¢ 1851-57, 3¢ 1861-68, 2¢ 1890 and 2¢ 1895-1903, The two editions are quite similar as to color identification however the text differs. We prefer the original edition as the chips are mounted on a non-surfaced paper and you do not get the glare of the Scott edition.

2004, prong bound and boxed, Morris's edition, limited stock, enquire before ordering, sold out
2005, spiral bound and boxed, Scott edition, sold out

Color Guide System for Canada, by Richard M. Morris Covers the Large & Small Queens, Widows Weeds, Registration Stamps, Engraved Post Cards and Third BIll Stamps 2002 revised and expanded edition, prong bound, edition of 25, sold out
Color Guides for the Admiral Issue of Canada by Richard M. Morris 2000, prong bound, sold out
Color Charts
The Color Handbook, Universal Identity System, 1,500 Different Colors by Franklin R. Bruns, Jr, circa 1970
Return to: PB Home Page
---
Philatelic Bibliopole
PO Box 36006, Louisville, Ky 40233, USA
A quick e mail to: Leonard, Leonard@pbbooks.net
Phone 502, 451-0317 but we prefer e-mail
---